Since 2005, 32 projects have been completed or are under construction with over 4000 students accommodated. SCW Canada funding for these projects is over $1,500,000 and the total construction value of these projects is $2,664,000. SCW Canada on average contributes 56% of a project's total construction costs with the balance paid by the local municipality and community.
Consistently over the past 7 years, 91% of every dollar raised by SCW Canada goes directly to construction costs !
About Us
SCW Canada … a totally volunteer organization

Schools for the Children of the World Canada (SCWCanada) is a non-profit charitable organization run by Canadian volunteers. We raise funds in Canada for the design and construction of schools for children in Central and South America. Approximately 91% of all funds raised are used to pay for school project costs. We partner with the local municipalities and communities where our schools are built. All projects are designed and constructed to SCWCanada standards by professionals in the country where each school is located.
Click Here to View our Brochure in Spanish
Click Here to View our Brochure in English
Our Mission
Our mission is to empower children and their communities in developing countries through the provision of new school facilities, educational opportunities and safe, sustainable and healthy learning environments.
How We Undertake School Projects
SCW.CA creates partnerships with communities which are in dire need of educational facilities. We work together with the representatives of the communities to determine the size of the school and how their site may suffice. If they have the enthusiasm to help with the construction and contribute some funds, we will develop a schematic design and determine a preliminary budget. If the representatives are satisfied, all parties sign a covenant/partnership agreement which identifies the responsibility of each group.
This includes a guaranty that the local government or the community will provide teachers.
Going forward, our construction team and a local architect develops the design and prepares construction drawings, which are tendered, to contractors. When the work commences with the best contractor, our architectural representative on the site ensures the quality of the work is satisfactory, prepares payment certificates, and signs off on the project at completion. The community representatives help with construction by preparing the site, moving earth as required, and sometimes helping with the painting, as examples of their input.
Regarding the funding of each project, SCW Canada pays a minimum of 50% of all costs with the municipality contributing approximately 30% and the local community contributing 20% in labour and materials. The contribution by SCW Canada varies on every project depending on the financial capability of the local government and the community. In some cases, SCW Canada has funded 100% of the total costs of a project.
At the conclusion of construction, there is usually a large celebration organized by the community.
Our Accomplishments
Since our inception in 2005, SCW Canada has completed 26 projects in Honduras and 5 in Ecuador. We have also designed two replacement schools in Haiti. We currently have one project, Instituto Doug Allen under construction in Honduras.
Funds Raised to Date
Funds raised through our yearly golf tournament and donations by individuals, corporations, and institutions to date in 2021 totals approximately $1,660,000.
---
CURRENT PROJECTS 2021:
#H 2001 Instituto Doug Allen
Las Lajas, Comayagua,
Honduras
SCW Canada has partnered with the Municipal Government of Las Lajas, the Community of Lajas, and the Ministry of Education of Las Lajas to build a new high school which is desperately needed to serve students in this community as well as a number of adjacent communities. This project will provide secondary school education which is currently not available.
The first phase of construction comprises four large classrooms with washrooms. The curriculum will include instruction in a number of trades in addition to core subjects. Subsequent phases will include additional classrooms and shops.
The site of the school has been provided by the local municipality of Las Lajas, the community will provide some labour and materials and the Ministry of Education guarantees the provision of teachers for the school.
Construction commenced in February 2020 but was delayed due to Covid 19 as well as two hurricanes in the fall of 2020. Construction resumed in January 2021 and it is intended that the first phase will be completed by August 2021.
Construction Cost For Phase 1       $126,809.04 USD
SCW Canada Share                             $ 65,583.90
Municipality / Community Share   $ 61,225.14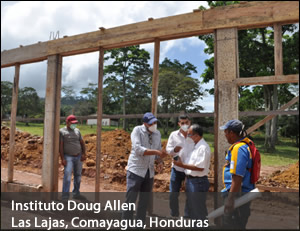 ---